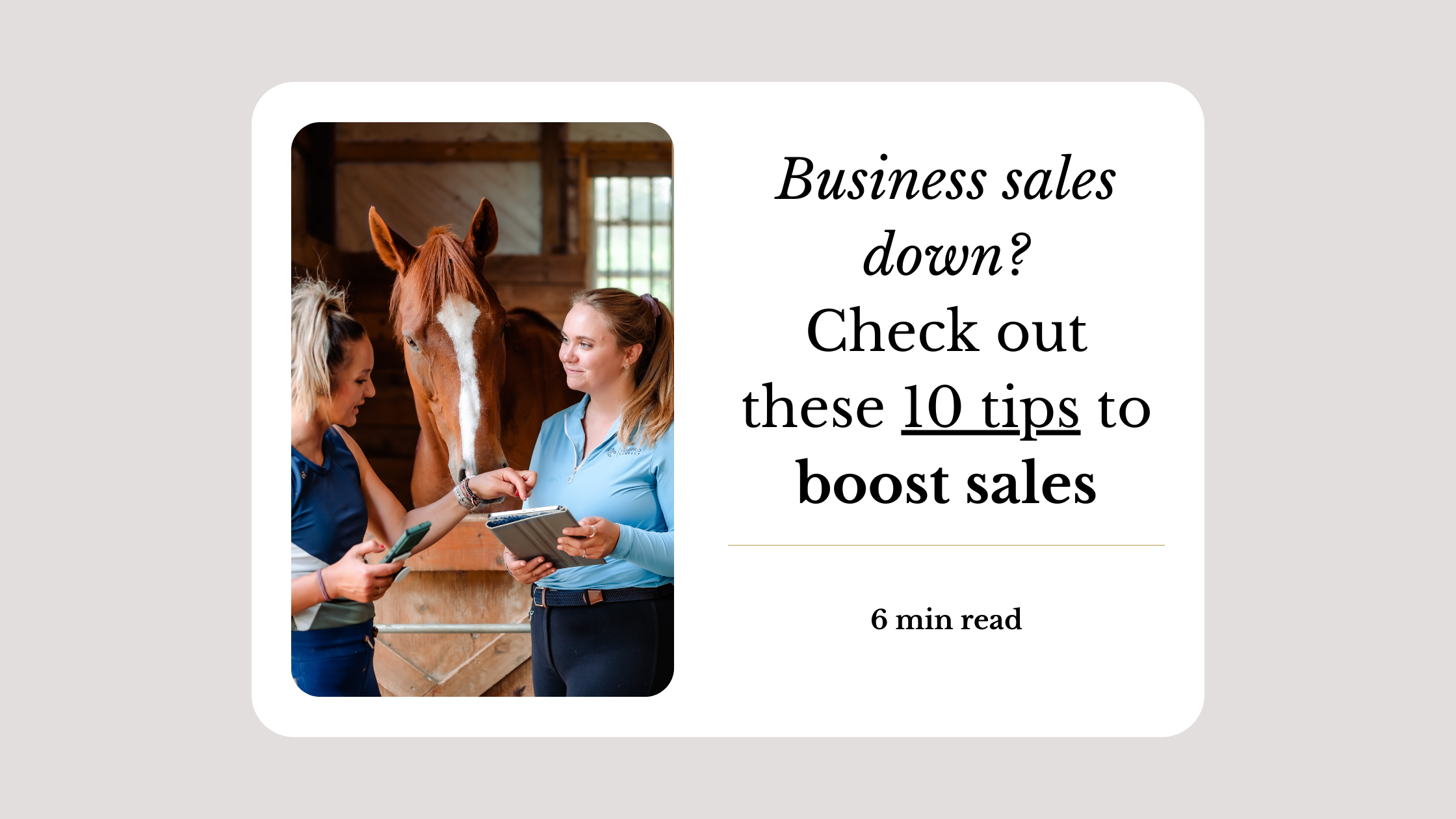 Marissa Schaefer
Business Sales Down? Check Out These 10 Tips to Boost Sales
6 minutes
If you've noticed a slow down in your business this summer then you're not alone.
In a recent poll we posted, 65% of equine practitioners said they've noticed a drop in their businesses.
Luckily, there are some proactive steps you can take - check out these 10 tips to boost sales in your horse business.
1. FOLLOW UP
What is your client follow up process like? Are you following up with new clients to check in after their initial appointment?
What about leads? When people submit questions on your website, do you respond but never check in with them again?
Following up is a wonderful opportunity to build trust with leads and clients. People need to know you care about them and their horses. Following up often leads to more bookings (sales) and loyal clients (consistent sales).
Think of ways you can improve your follow up practice, because "the fortune is in the follow up."
Want to automate and simplify your follow up process? Check out CRM systems, like EquiPro Connect, that send follow up messages for you.
2. ADDITIONAL OFFERINGS
Adding extra offerings doesn't mean you should run out and spend $2k+ on more certifications.
Find creative ways to diversify your income that doesn't put too much demand on your schedule.
How can you provide extra value to clients? Can you create...
a client mini course

an e-book

a consulting/coaching option

rent out equipment you already own?

create a monthly service 'subscription'

become a distributor of a product you love



Keep your focus on your signature service, but additional offerings can be a great way to boost sales.
3. CREATE PACKAGES & BUNDLES
Packages are a great way to book multiple appointments with clients (=increase sales).
Plus, extra sessions help clients achieve better results (long-term loyalty = more sales).
Some package ideas…
signature service + additional offerings bundle

rehab packages

exercise packages

show session packages

training packages

coaching/consult + signature service bundle






4. DEMOS AND CLASSES
While these take time to prepare and design, the pay-off can be well worth the effort. Once you've created your demo/class, you can 'rinse and repeat' it every few weeks and run it on auto-pilot.
Overtime, you'll create a reputation for your classes (credibility = more sales).
Your demo or class offerings can range from simple to more complicated:
30 minute demos + evaluations for a low price

1-2 hour lectures over a hot topic for a mid-price

full day workshops/classes at a higher price



Or, mix and match a style of all 3.
Be sure to funnel them to another offering at the end of each class.
If demos are for warm leads, funnel them to book an appointment. If lectures are for clients, funnel them to your mini course. If workshops are for 'higher level' clients, funnel them to your consulting package.
* An important note - it may take a while before your classes pick up traction and get good turn out. Keep marketing, keep showing up! Your reputation will build and people will come.
Classes can be challenging at first but are incredibly fulfilling.
5. WATCH YOUR TIME
Time is money, but in such a close-knit industry this tip can be hard to follow. We all know how easy it is to get caught up in barn-talk after appointments.
You want to treat your clients like the valued people they are. At the same time, avoid spending too much time chatting between appointments.
That time could go towards more appointments, marketing, or other tasks.
Only you know what's right for your business. Be mindful of your time so you can use it towards more productive activities that boost your sales.
6. AUDIT YOUR PRICING
Is your price based on making a profit or on what others in the area are charging?
Do your prices cover regular expenses, like gas and supplies, as well as forgotten ones..
saving for continuing education

registrations and memberships

insurance

equipment

marketing materials (flyers, business cards, etc.)

marketing budget (paid ads, sponsorships, etc.)

software

etc.



Price increases are never fun, but sometimes necessary.
If you're struggling to cover business expenses and bring home cash, it's time to reassess your pricing. You may find you need to raise your prices to run your business like a business.
7. GET YOUR FACE OUT THERE
Horse owners cannot connect with you if they don't know you exist!
Wear your logo-ed uniform, shove some business cards in your pocket and get out in the community!
Attend horse shows, go to events, support your clients at their shows, volunteer.
Find opportunities to get your face (and name) out into the community.
Connect with other equestrians, build relationships, and network. You'll naturally 'soft sell' your services (= increased sales).
8. COLLABORATE WITH OTHER PROFESSIONALS
What collaborations do you have in place at the moment? Are you actively collaborating with other professionals in your area?
What veterinarians, chiropractors, farriers and body workers can you connect with?
Collaboration creates validity and trust. People think, 'if this professional trusts X practitioner, then so should I.'
Choose 3 professionals in your area and reach out to collaborate with them. Collaborations should focus on what you have to offer and create a win-win for both of you.
Collaboration isn't a one-size-fits-all program. Check out these ideas...
"Collaboration is multiplication." Multiplication of your results, your clients and your income.
9. CLEAR PRICES
Make it clear what your pricing is.
If people go to your website and cannot find a price, they will leave and click away. It's the 'if you have to ask you cannot afford it' mentality.
Clicks away = lost sales.
Be upfront about your pricing and fees. Let people know your prices before their appointment.
10. MARKET YOUR BUSINESS
This might seem like a no brainer, but are you actually? Do you have a strategy in place that you're using and tracking your metrics to see if it works?
What methods are you doing to market your business?
Marketing your business shouldn't be over complicated. But, it requires more effort than sticking flyers in local tack stores and posting to Facebook randomly.
My best advice? Do research on marketing, or check out marketing courses created for equine professionals.
YOUR NEXT STEPS
Results need action, so choose one tip that resonates the most with you and do it:
Follow up

Additional offerings

Packages and bundles

Demos and classes

Watch your time

Audit your pricing

Get your face out

Collaborate with other professionals

Clear prices

Market your business



Don't overwhelm yourself trying to tackle all 10 at once. After you've implemented the first tip, choose a second and keep going.
Allow yourself 3 months to reap the reward of your effort and see your sales boost. Keep going and don't give up. You've got this.
P.S. If you're interested in software to automate your follow-up process, click HERE to learn more.
P.S.S. Want to improve your marketing? Check out THIS marketing course for equine practitioners.