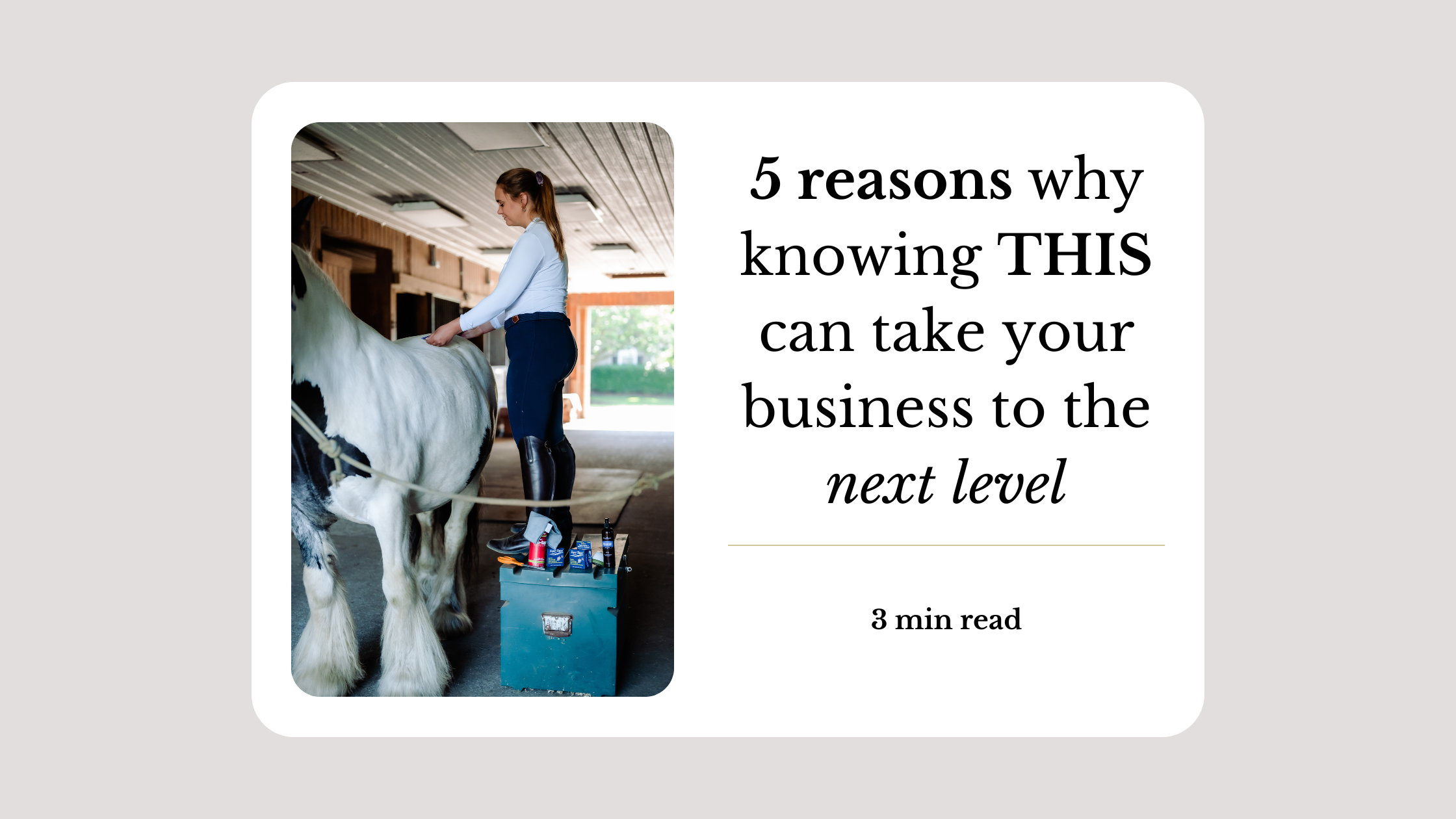 Marissa Schaefer
5 Reasons Why Knowing THIS Can Take Your Business To The Next Level
3 minute read

In the horse industry, it's becoming increasingly essential to stand out.. and that's where having a niche comes into play.
Niche - a specialized segment of the market for a particular kind of product or service.
Knowing your niche is about finding your unique signature and identifying what makes you different.
Why is this so important? Let's explore 5 reasons why knowing your niche is actually one of your biggest super powers:
Expert Authority
Specializing in a specific niche allows you to focus your time and energy on mastering your specialty.
By honing your expertise in one area, you become an authority in the field and position your business as the go-to source for specialized services.
Your skills and knowledge builds confidence in your clients and sets you apart from the competition.
Plus, clients are often willing to pay a premium for expert-level services, making specialization a profitable strategy.
Know Your Audience
When you focus on a specific niche, you gain a deep understanding of who your target audience is and learn to speak their language.
This allows you to tailor your marketing messaging to connect directly to their needs, pain points, dreams and goals, rather than being scattered and talking to whomever will listen. When clients feel understood, they are more likely to choose your specialized services over more generalized options, leading to increased customer loyalty and repeat business.
Increased Efficiency
Offering a broad range of services can spread your resources thin and dilute your focus.
A specialized approach, tailored to your niche, allows you to streamline your operations and optimize your services (aka save time and money). This efficiency also translates into better results and happier clients.
By eliminating the need to juggle multiple service offerings, you can spend your time and money more effectively and provide exceptional service to your clients.
Strong Reputation
By focusing on your niche, you can create a portfolio of success stories within your specialty.
Client referrals and positive testimonials contribute to building a strong reputation for your business. As your reputation grows, so does your credibility, making it easier to attract new clients and secure new barns.
Establishing a solid reputation within your niche can open new doors to new opportunities, like speaking at clinics.
Industry Leader
The horse world is a rapidly evolving industry, with new techniques and trends emerging regularly.
By focusing on a niche, you can closely monitor and adapt to the latest developments within your specialized area. Staying ahead of industry trends positions your business as an innovative leader, capable of bringing the newest solutions.
Being an industry leader strengthens your competitive advantage and allows you to anticipate your client's evolving needs, ensuring long-term satisfaction and business growth.

Lets answer these 3 questions to discover your niche!
What am I interested in?
What are you passionate about?
What is your expertise?
(Hint: It's usually something you could talk about for hours.)
What problem can I solve?
Who are your clients?
What are their needs?
How can I bring these together?
Your niche is your passion + clients coming together. How can you mix your expertise plus the problems you solve into a unique niche?
In such a diverse industry, the power of focusing on your niche cannot be overstated. By specializing in a specific area, you can position your business as an exert, tailor your services to meet the specific needs of your target audience, streamline your operations, build a strong reputation, and stay ahead of industry trends.
So take the leap, find your niche and hardness its power to propel your business to the next level!

Are you still feeling unsure about what your niche actually is? Do you want additional help gaining clarity around your unique specialty?
Then join us on Tuesday, June 20th at 7pm CST for our FREE workshop: How to Discover Your Niche.
This workshop is designed to help you discover your unique niche in the horse industry and comes with a complimentary 9 page workbook!
Click HERE to register!